DBC Walk-For-Hope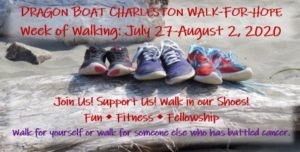 Please join us to support Dragon Boat Charleston's mission of promoting the physical and mental wellness of cancer survivors and their community through dragon boating! We cannot be on the water right now, due to the pandemic, however we still encourage wellness!! Register for the walk-a-thon and join the fun — while you support DBC!!! We are encouraging walkers to complete 10 miles in the 7-day period. However, you can do more or do less depending on your level of fitness!! Just join us and have some fun!
Walkers register HERE.
Donors can click here for the online PLEDGE FORM.
If you would prefer to print out an offline pledge form, you may find that here: Walkathon offline pledge form