Festival Registration
Early Registration until January 15 - credit card only: $780.00
Pay Full Registration with Credit Card after January 15: $980.00
I am paying the full $980 for my team registration via credit card right now. No fees for teammates.
Paying via CHECK: No Fees for teammates
I am paying my team's registration fee by check. I will be mailing this check to: 1643 Savannah Hwy. #261, Charleston, SC 29407. If I do not remit payment within 2 weeks of registration, my team will be deleted from the roster. 
Paddler Registration when registration is paid in full by Company or Team Captain: No Fees
My team's registration has already been paid by Company or Captain. 
Each Paddler for his/her own: $49.00 (not available for Early Bird Registrations)
I am paying my own way to start/join this team. Each subsequent paddler will also pay their own way. I understand that this payment does NOT INCLUDE my fundraising commitment, but is for boat and equipment registration only. (Register as a Teammate and select your team from the drop down)
Refunds: 
DBC relys on Registration Fees to cover insurance costs, non-refundable rental deposits, and fees needed to conduct the event including permits, boats, life vests, paddles and on-land equipment. While we will not provide refunds if a team feels it must drop out, we will issue refunds (minus transaction fees) in the event that we determine we must cancel for any reason by March 15. We appreciate all of the donations that paddlers bring in to support DBC. As a donation to our 501c3, your support keeps us afloat all year long. Donations are non-refundable. Thank you!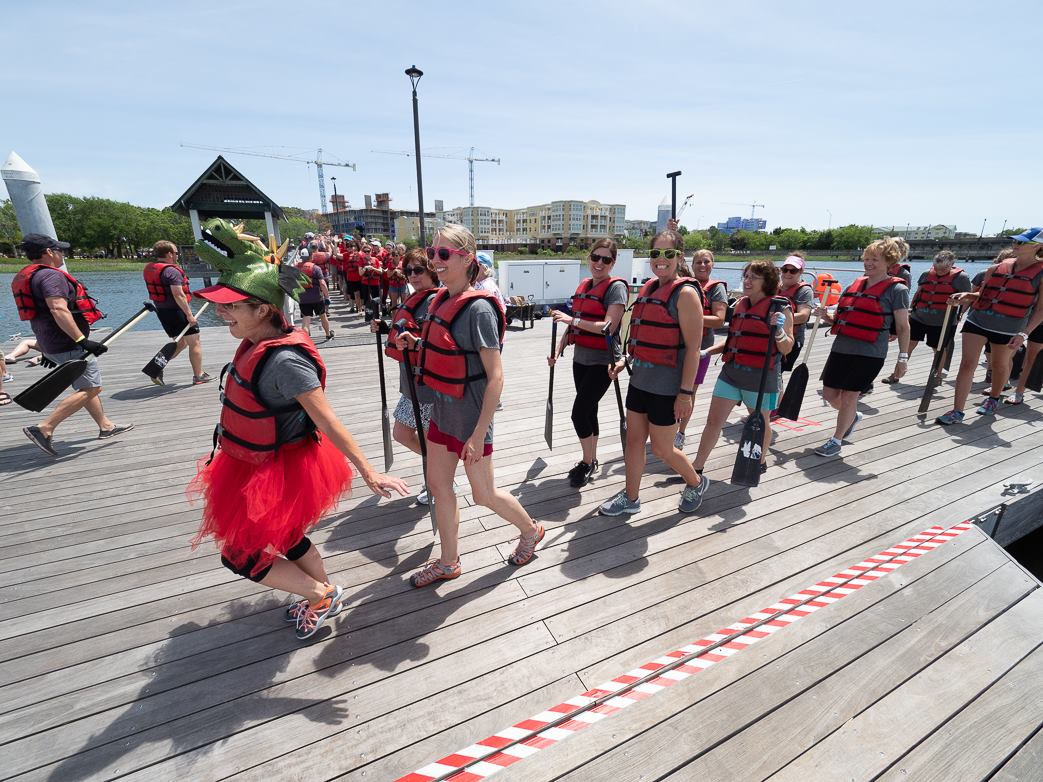 Annual Charleston
Dragon Boat Festival
May 6, 2023
What Our Paddlers Are Saying About DBC
"I had no idea when I started paddling with DBC that it would become an essential part of my life. What started as having fun on the water in 2003 blossomed into a network of friends and a support group that kept me sane as I underwent surgery and chemo in 2005 and again in 2007. It's an escape from the horrors of cancer, where I am accepted whether I am strong or weak."

"DBC provides a community that accepts everyone where they are physically, as well as emotionally, and allows them to fully participate in a true sport as a team member. Paddling provides a positive challenge for physical and emotional growth, combined with the beauty of the outdoors and just plain fun. It's good medicine."

"Having cancer revealed my physical vulnerability, produced great fear, and threatened my mortality. DBC enhances my physical strength and makes me fearless. The peacefulness of the water, the drum beating in time with my heart, and the communion between paddlers who have all faced a fearful foe, makes me feel immortal."

"Water is an integral part of the Lowcountry. Getting outside to exercise is important for physical health and mental well-being. A person who has had surgery, been stuck in the infusion room or under a radiation machine (cut, poisoned and burned) doesn't feel like doing anything. It sucks the strength from a person. You feel that you will never feel human again. You feel ruined. Dragon boating is an opportunity to get outdoors and become one with your body again. You start to feel like maybe you can overcome the cancer toll. You note your surroundings and realize what a great lifestyle the Lowcountry has. The exercise helps build your stamina and brightens your outlook on the future."

Get Involved with Dragon Boat Charleston
Dragon Boat Charleston News & Events
August 17, 2021
The Post and Courier featured Dragon Boat Charleston in a recent article.
August 17, 2021
The Post and Courier featured Dragon Boat Charleston in a recent article.
April 8, 2021
Welcome to SRDBA The Southeastern Regional Dragon Boat Association (SRDBA) promotes the sport of dragon boating by pro­viding a community that fosters education, training, and promotion
[…]

Have Questions About How You Can Help?