Awards 
T-shirt Winner - Huff the Magic Dragon
Tent Decoration - Hope Floats
Team Spirit - Bubbles & Buoys
Top Fundraising - Bubbles & Buoys
Team Fundraising - Bubbles & Buoys
Women's Division Winners 
1st Ashley Hall Panthers are Miels Ahead 1.28.94
2nd Hope Floats (HVES) 1.31.04
3rd Patrona's Pirates 1.33.35
Mixed Division Winners 
1st U.S. Coast Guard Charleston 1.15.33
2nd Team Blue- South Carolina Federal Credit Union 1.16.68
3rd Rifters 1.18.22
Cancer Division Winners 
1st  DragonBoat Beaufort 1.22.51
2nd Dragon Boat at the Beach 1.30.64
3rd  Dragons on Fire 1.41.67
Join us for the 2023 Dragon Boat Festival as we celebrate 20 Years of serving cancer patients, survivors, and their community supporters!!
Join us on Saturday, May 6 2023!
DONATE to a paddler or check out Team Progress here:  LEADERBOARD

Thank you for your interest and support of Dragon Boat Charleston and our annual event that helps support our mission – the Charleston Dragon Boat Festival. In celebration of our 20th Anniversary year, we are more excited than ever to GET IN THE BOAT!  Cancer touches almost everyone, sadly. The Festival is about hope, health, and a coming together of people from all walks of life who want to celebrate life and #fightcancer.
Proceeds from the Festival pay for the expenses of DBC cancer survivor paddling programs, nutrition and yoga workshops, endurance paddles, social and emotional events and get togethers, an 8-week PATH outreach session for cancer survivors, Novice Programs, and race registrations to local and national races -- the ultimate challenge for many of our survivors and supporters. We also paddle year-round 4-5 times per week and host fellowships to meet the social and emotional needs of people. DBC is able to offer these programs because of all the amazing people who support the festival.
No experience necessary, we will provide your training!
Each team should consist of 20 paddlers and 1 drummer. DBC will provide your steersperson, life jackets and paddles. All team members must be at least 14 years of age (anyone under the age of 18 must have waiver signed by Parent/Guardian). Each team is allowed ONE boat.
This is an Amateur event! A team may have only 2 club paddlers. A club paddler is defined as someone who, 1) practices/ed regularly with a club team, 2) has participated in races, 3) participated in any type of paddling clinic/camp. These rules do not pertain to cancer survivor teams.
A 10x10 tent will be provided for your team. No tables are provided.
Two practice sessions will be provided the two weeks before the festival, beginning April 24. The practice sessions will be scheduled after the Team Captain's Meeting and as soon as your team pays its registration fee.
The Charleston Dragon Boat Festival races 4 divisions: Mixed (must have at least 8 women), Women's, Men's (maximum of 18 paddlers) and Cancer Survivors (must have 12 survivors on the team).
Festival organizers have the right to reduce the number of paddlers for any team based on water conditions and safety concerns.
We encourage all teams to decorate their tent and get decked out in original team t-shirts. Awards will go to best tent décor and best team shirts.
Participant and Spectator Parking:  There are several lots that are near Brittlebank Park for people to find parking. In addition, we have a RIDE SHARE area and encourage people to use Ride Share when possible!!!
Have Questions? Check out our Frequently Asked Questions.
To form your team, or JOIN a team, visit the Registration Page: REGISTRATION PAGE
DONATE to a paddler or check out Team Progress here:  LEADERBOARD
A schedule of the day and a Festival Map will be included here as we get closer to the event.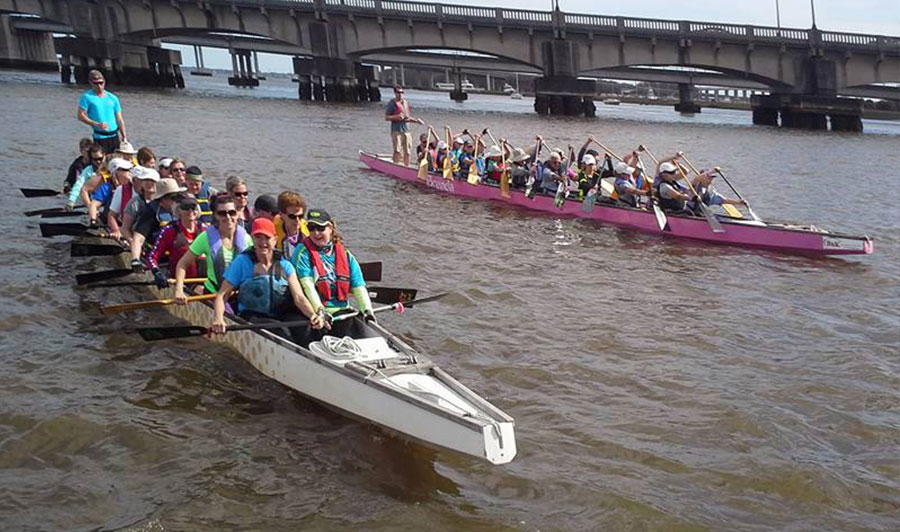 EVENT REQUIRMENTS
There is currently no vaccination requirement for people to participate in or attend the Dragon Boat Festival!
Please remember, however, that nearly all of the 100+ volunteers at the event are cancer patients or survivors. So, please monitor yourselves and your teammates and please do not attend your practices or the event if you are not feeling well. We hate to think about anyone missing the event, but we also want to protect our cancer fighters in every way we can!
Thank you for helping us keep our DBC Community Healthy!
Special Thanks to Our Sponsors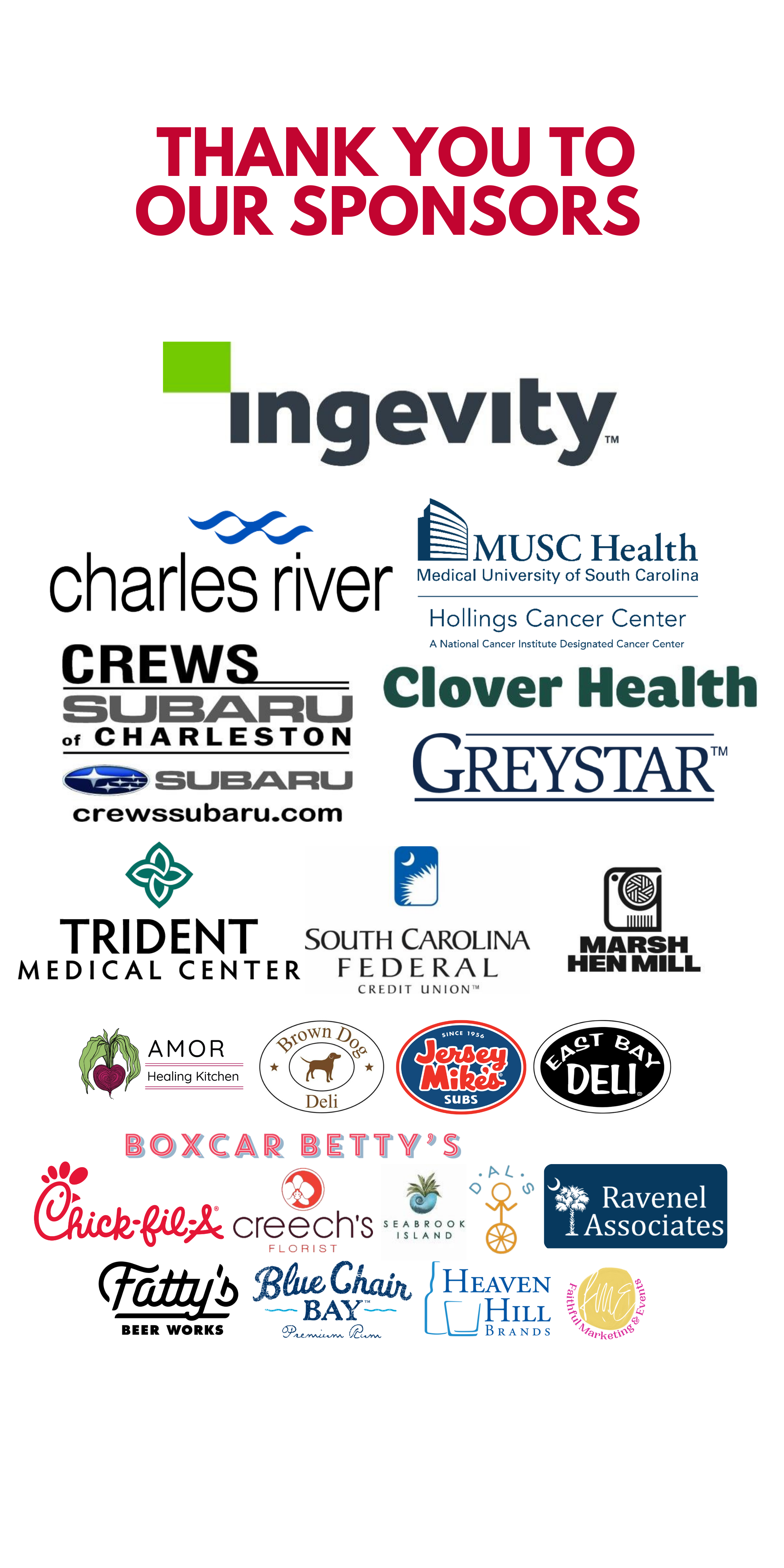 What Our Paddlers Are Saying About DBC
"I had no idea when I started paddling with DBC that it would become an essential part of my life. What started as having fun on the water in 2003 blossomed into a network of friends and a support group that kept me sane as I underwent surgery and chemo in 2005 and again in 2007. It's an escape from the horrors of cancer, where I am accepted whether I am strong or weak."

"DBC provides a community that accepts everyone where they are physically, as well as emotionally, and allows them to fully participate in a true sport as a team member. Paddling provides a positive challenge for physical and emotional growth, combined with the beauty of the outdoors and just plain fun. It's good medicine."

"Having cancer revealed my physical vulnerability, produced great fear, and threatened my mortality. DBC enhances my physical strength and makes me fearless. The peacefulness of the water, the drum beating in time with my heart, and the communion between paddlers who have all faced a fearful foe, makes me feel immortal."

"Water is an integral part of the Lowcountry. Getting outside to exercise is important for physical health and mental well-being. A person who has had surgery, been stuck in the infusion room or under a radiation machine (cut, poisoned and burned) doesn't feel like doing anything. It sucks the strength from a person. You feel that you will never feel human again. You feel ruined. Dragon boating is an opportunity to get outdoors and become one with your body again. You start to feel like maybe you can overcome the cancer toll. You note your surroundings and realize what a great lifestyle the Lowcountry has. The exercise helps build your stamina and brightens your outlook on the future."
Get Involved with Dragon Boat Charleston
Dragon Boat Charleston News & Events
August 17, 2021
The Post and Courier featured Dragon Boat Charleston in a recent article.
August 17, 2021
The Post and Courier featured Dragon Boat Charleston in a recent article.
April 8, 2021
Welcome to SRDBA The Southeastern Regional Dragon Boat Association (SRDBA) promotes the sport of dragon boating by pro­viding a community that fosters education, training, and promotion
[…]
Have Questions About How You Can Help?